With funding from personal donations and in collaboration with project sponsors, TIRF is working to increase large truck safety on the roads working with trucking associations, fleets, employers, and licensing authorities. Below are some recent publications and projects on this issue.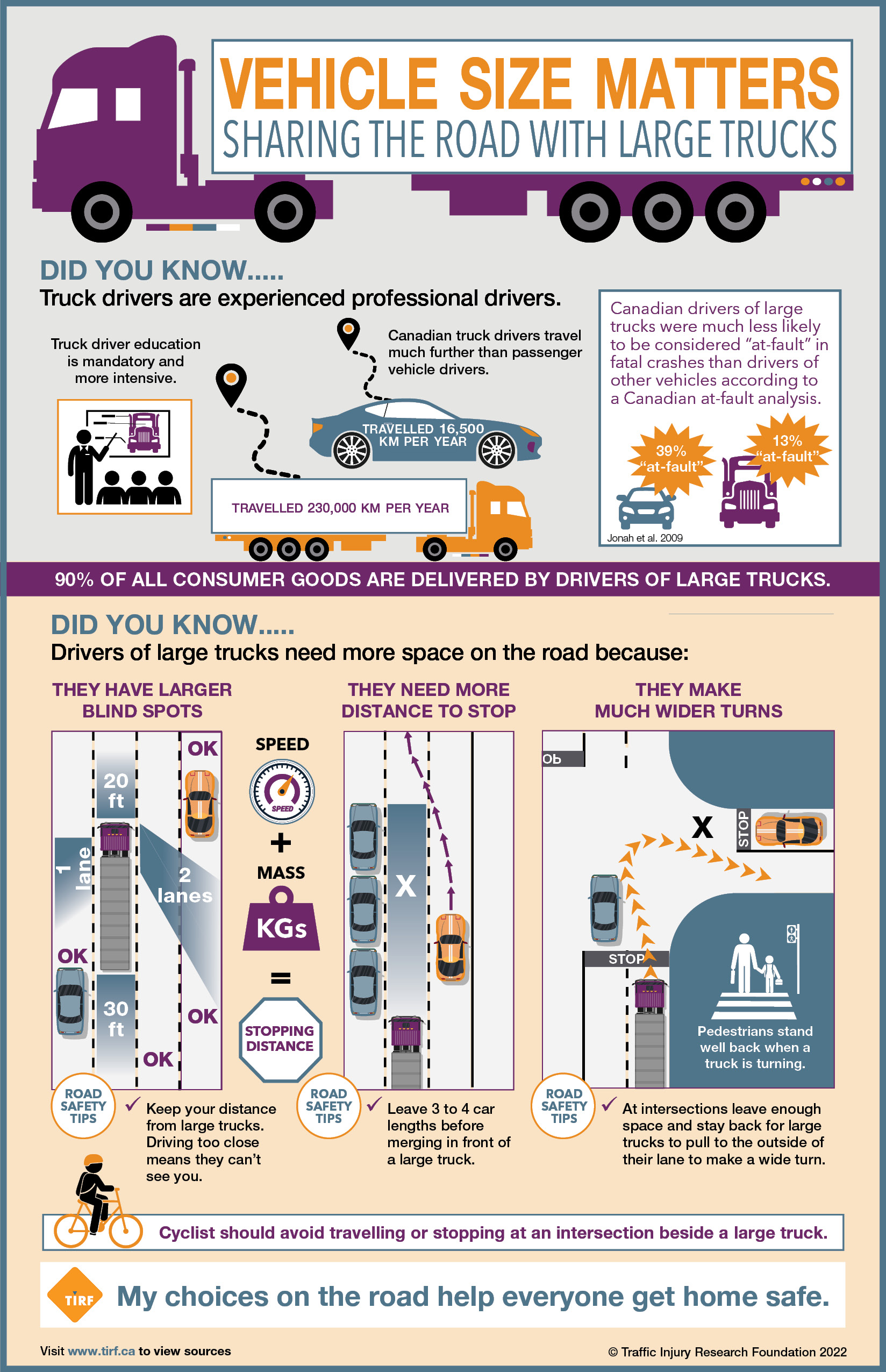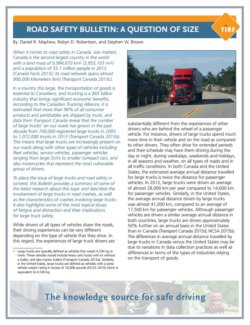 Large Trucks and Road Safety: A Question of Size
TIRF published a state of knowledge related to large trucks and road crashes in response to many information requests about this topic. To place the issue of large trucks and road safety in context, this Bulletin summarizes the latest research and describes the involvement of large trucks in road crashes, as well as the characteristics of crashes involving large trucks. It also highlights the topical issues of fatigue and distraction and their implications for large truck safety. Improvements and standardization in driver training are important tools that can help governments and the trucking industry increase the safety of large truck drivers and other road users, and achieve further declines in crashes. This publication was made possible through charitable donations. Other donor-funded publications have focused on distracted driving, teen drivers, older drivers and knowledge transfer.
Canadian Coalition on Distracted Driving (CCDD), Business Case & Tools
(Available in English & French – see further below for related publications) – The report titled Distracted Driving & Workplace Safety Policies: A Business Case for Employers describes the costs of prevention programs and compares them to collision costs. It illustrates the value of integrating distracted driving policies into workplace safety programs and reinforcing them in day-to-day safety practices. Tools are included to help employers estimate the costs to their business and quantify the value of distracted driving safety policies which can protect staff and improve safety in the communities where they live and work. The Distracted Driving & Workplace Safety Form and Distracted Driving & Workplace Safety Checklist are additional workplace safety tools produced by the CCDD. Over the past five years, CCDD members and stakeholders representing education, enforcement, academia, government, health and industry sectors, including insurance, automotive and trucking industries, have collaborated to increase safety for businesses and communities. These resources provide employers with free, real-world tools to support distracted driving workplace safety policies. Learn more about this initiative of TIRF, Drop It And Drive® (DIAD) and The Co-operators: https://tirf.ca/projects/distracted-driving-canada-making-progress-taking-action
The Effect of Fuel-efficient Driving on Collision Risk
The Traffic Injury Research Foundation (TIRF) has released Quantifying the Benefits of Eco-Driving for Transportation Employers, reporting the results from a 2022 study conducted with funding from Natural Resources Canada. The study explored whether adopting an eco-driving style reduces crash risk and leads to savings in the operational costs of transportation companies. The full press release and related downloadable technical report and fact sheet are available in English & French.
Click here to access the project page.