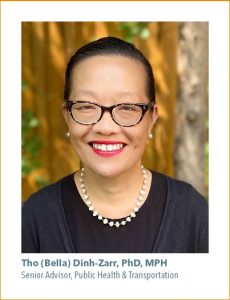 Ottawa, ON September 2, 2021 – The Traffic Injury Research Foundation (TIRF) is pleased to announce Tho (Bella) Dinh-Zarr, PhD, MPH, has joined TIRF as Senior Advisor, Public Health & Transportation, with the support of the FIA Foundation. A former Vice Chairman of the NTSB, she has 25 years of executive and technical experience in government, non-profit, corporate, philanthropic, and academic settings. Bella focuses on the intersection of public health and transportation with the goal of safe and ethical transportation for all.
One of Bella's first tasks relates to a project exploring how different transportation and health frameworks can improve safety across different modes of travel around the world.
Bella's new role at TIRF involves discovering ways concepts can be shared and applied, and where certain tools might be implemented with an emphasis on adapting good ideas to make them effective in diverse settings. Her time will be devoted to listening to and learning from — experts from around the world, professionals across disciplines with a wealth of expertise, and those with diverse experiences and practical knowledge. Bella's work encompasses safety, sustainability, ethics, good governance, accessibility, technology assessment, and other topics at the nexus of road safety and public health.
Bella's new #MySafeRoadHome blog shares more details about this exciting project: Safe Roads for All: A mission to re-imagine transportation safety
View Bella's full bio.
Welcome to the team Bella!
About TIRF
Traffic Injury Research Foundation (TIRF) is an independent, charitable road safety research institute. The vision of TIRF is to ensure people using roads make it home safely every day by eliminating road deaths, serious injuries and their social costs. TIRF's mission is to be the knowledge source for safer road users and a world leader in research, program and policy development, evaluation, and knowledge transfer. TIRF is a registered charity and depends on grants, awards, and donations to provide services for the public. Visit www.tirf.ca.
LinkedIn: Traffic Injury Research Foundation & Drop It And Drive® Program, TIRF
Facebook: TIRFCanada & Drop It And Drive®
Twitter: @TIRFCANADA & @DropItAndDrive
Instagram: @DropItAndDrive
About the FIA Foundation:
The FIA Foundation has an international reputation for innovative global road safety philanthropy; practical environmental research and interventions to improve air quality and tackle climate change; and high impact strategic advocacy in the areas of road traffic injury prevention and motor vehicle fuel efficiency. Our aim is to ensure 'Safe, Clean, Fair and Green' mobility for all, playing our part to ensure a sustainable future. Visit https://www.fiafoundation.org
– 30 –
For more information, please contact:
Karen Bowman
Director, Marketing and Communications
Traffic Injury Research Foundation
613-238-5235 (office)
1-877-238-5235 (toll-free)
250-797-0833 (direct)
613-238-5292 (fax)
tirf@tirf.ca / karenb@tirf.ca