Aussi disponible en français
Advanced driver assistance systems (ADAS) can increase safety, but don't replace attentive & alert drivers
Do you remember the excitement of buying or leasing the vehicle you currently drive? If you're like most people, safety was probably one of the most important factors in your selection. For some, it may be back-up cameras, forward collision warning systems or another active safety feature. And, for the more adventurous out there, it may include off-road technologies such as downhill descent control, crawl control, electronically disconnecting sway bars and front-view cameras to help navigate tricky terrain. Manufacturers have worked hard in the past decade to improve or develop new safety features, or advanced driver assistance systems (ADAS), which can provide a lot more protection on the road. As manufacturers continue to deploy these technologies, governments around the world are actively evaluating their performance and establishing the groundwork for future regulations that will, over time, make many of these features standard on all vehicles.
So, where do Canadians stand on these safety features? A 2014 survey revealed 69.5% of Canadians were familiar with anti-lock braking system (ABS). However, Canadians reported limited familiarity with Traction control (TC, 49.6%), Electronic stability control (ESB, 33.2%), and Brake assist (BA, 32.1%) among others. Perhaps if we want drivers to embrace safe use of these technologies, we should first make sure they know what they are and, more importantly, how and when they're designed to work.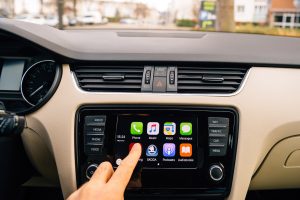 But even though safety is a key factor for most drivers, we tend to spend surprisingly little time at the dealership learning about features before happily driving off the lot with our newest pride and joy. Because we drive so often, we tend to underestimate just how much cars have changed. In fact, cars (& trucks, & SUVs) have changed more in the last decade than they have in the last 30 years. Historically, the focus was on mitigating damage and injuries from crashes due to driver error whereas today, the focus of technologies is on crash avoidance using a sense-think-act approach. There's really a lot of new technology to learn, even if you're leasing a vehicle every four years much less buying a new one every 10 years or so. With the speed of these advancements, even a couple of years between knowing your current vehicle and getting a new one means there can be significant changes in technologies and features.
Do you invest in your own safety?
Many of us would probably say yes, simply because safety is often an important part of our purchasing decision. In reality, the answer is no if you don't pay enough attention to extensive owner's manuals and/or creative and varied online tutorials vehicle manufacturers are making available in an effort to educate drivers. The question is, why not?
Is it because we're so comfortable with new technologies and rely on figuring it out on the fly? Many of us have seen someone trying to take a picture with their new phone when in fact, they're making a self-facing video of their amusingly awkward attempt. In these scenarios, do-overs are acceptable and even encouraged until we perfect the use of the technology because the consequences may involve some embarrassment or a few chuckles at worst. However, when this same learning on the fly approach is taken to new technologies in your vehicle, the consequences may be vastly different.
According to Mark Twain, "Good decisions come from experience. Experience comes from making bad decisions." This approach can reinforce important life lessons, such as not needing to touch a flame, stove or flat iron to know it's hot. But road crashes don't always allow the opportunity to learn from our mistakes because life isn't a video game with extra lives available.
So, why is it drivers generally don't spend much time learning about their vehicle safety features as opposed to learning on the fly when the feature is needed? We can all agree driving two tonnes of metal at highway speed is not the best time to figure out how and when our safety features work. Other drivers, pedestrians and cyclists sharing the road with us no doubt agree this is not the smart choice.
Did you know some safety features only engage when you do?
Our level of engagement and attention to the driving task is linked to the level of protection at least some of these safety features provide. The two types of vehicle safety features are:
Active safety features are features that actively work to sense and monitor the vehicle's driving dynamics, traffic conditions and/or road conditions and engage to prevent or mitigate crashes.
Some active safety technologies are independent of user-input and intervene automatically when vehicle motion exceeds a certain threshold (as is the case with ESC when a vehicle starts to swerve or emergency braking assist which boosts braking power on hard pedal input).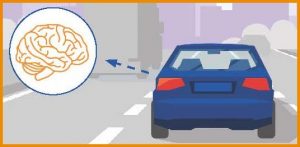 Others, such as blind-spot monitoring and lane-departure warning actively monitor driving conditions and engage the driver with safety related warnings when they detect a dangerous scenario developing, so that the driver may undertake corrective action. Certain ADAS technologies such as lane keeping assist (LKAS) or automatic emergency braking (AEB) go one step further by requesting corrective action from the driver and, if that is not forthcoming or possible under the prevailing conditions, automatically intervening to avoid an imminent crash.
Passive safety features are features designed to protect against death and serious injury by preventing intrusion into the cabin and by absorbing and redirecting the impact energy of a crash away from occupants as well as flammable components such as the fuel tank. Such technologies include but are not limited to seatbelts and airbags, headrests, crumple zones and even window glazing. Vehicles have design features to withstand rollover and both bumpers and hoods include design features to mitigate injury to pedestrians.
While these increasingly advanced safety features are important to keep us safe on the road, research shows some drivers may become over-confident and take more risks by overdriving (e.g., driving as though on clear, dry roads when you're not) the road conditions—as many do in AWD equipped vehicles—or even rely on these features in situations for which they were not designed. This misconception is concerning because it can result in drivers paying less attention behind the wheel, leaving them unprepared to respond to those unexpected events. We've all encountered those construction zones with a vehicle stopped in a lane, that large truck turning, or cyclist swerving to avoid a pothole, or a driver changing lanes without signaling. In these cases, slow or delayed reactions by drivers mean active safety features don't engage as quickly and they have less time and distance to work.
So even if you have a lot of driving experience and perhaps drive the same route every day, safety features cannot replace an attentive and alert driver. To help you maximize the protection offered by active safety features, this blog provides an overview of some of the most important technologies and tips to help avoid a costly collision.
What types of situations activate Advanced driver-assistance systems (ADAS)?
So, let's break these down to real-world examples and if you're looking for more technical descriptions, downloadable fact sheets & even videos, just click on the link for each system.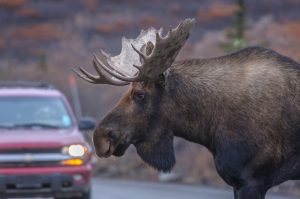 Electronic stability control (ESC): We love our wildlife in Canada, but let's face it, no driver wants to round a bend to the sight of a moose sauntering across the road. It's safe to say most of us would instinctively swerve to avoid such a large animal. This reaction, and especially the oversteer that usually results in attempting to get the vehicle back on track can result in uncontrollable swerve and the driver ditching the vehicle or even rolling it.
Electronic stability control helps to stabilize the vehicle automatically braking individual wheels to reduce the instability and quickly return control to the driver. However, it can't prevent fender-benders or compensate for poor road conditions or speeding.

Traction control (TC): So, who remembers the adrenaline spike of feathering the gas pedal when one tire hit a slippery section of road? Now, thankfully, we have traction control to assume that role. When the vehicle senses that the power or torque transfer to the road is less than expected from the throttle input, indicating a slippage condition, traction control seeks to make the most use of available traction by adjusting wheel braking or hindering power delivery to the wheels by one of several engine control measures.
An important caveat of TC, which is often a secondary function of ESC, is that it requires a contact patch between the tire and the road surface; it cannot NOT create traction where traction does not already exist, such as when the vehicle is hydroplaning on ultra-low friction surfaces such as large puddles or on ice. The performance of traction control can vary according to the slippage caused by snow or mud or be limited if the tire-road contact area is reduced as can occur when traversing the "washboard" conditions often encountered on unpaved rural roads.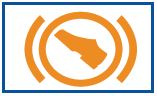 Emergency Brake assist (EBA): Curiosity and humanity often go hand-in-hand. But, when the driver in front unexpectedly slams on the brakes to engage in rubbernecking a collision on the other side of the highway, it can be a case of curiosity killed the cat. When, as an attentive driver, you have left enough space to avoid a collision by braking hard yourself (but, maybe not hard enough), brake assist steps in by boosting braking power. However, Emergency Brake Assist (not to be confused with more advanced Automatic Emergency Braking!) has no ability to detect the road or traffic conditions, so it relies upon consistent, heavy pedal input from the driver. If the braking input is not sufficiently hard, or is not maintained, the booster may not fully engage or even engage at all.
What drivers need to know about active ADAS
While active driver assistance systems increase safety, they do not replace attentive and alert drivers; they simply support drivers in taking action to avoid the unexpected or mitigate negative outcomes.
Drivers should familiarize themselves with safety features on their vehicle before a collision occurs; during a collision is simply the wrong time to try to figure it out.
Always wear your seatbelt. This remains the most effective safety feature on vehicles! Not only does it prevent injuries from contact with the steering wheel, dash and windshield, but it prevents vehicle occupants from injuring each other in a collision (knocking heads!), and from being ejected from the vehicle which increases the risk of death. Seatbelt engagement also prevents airbags from deploying unnecessarily in minor collisions, which can happen as a last-ditch fail safe, and which carries its own risk of injury from deployment for unbelted occupants.
Safety features prevent or reduce the severity of collisions, but when a collision does occur, safety features can also increase the cost of repairs.
Our thanks to our donors, Consolidated Collision Services (CCS) and RSA Canada. CCS's donation of $5 to TIRF for each RSA Canada auto repair over three years supports ongoing educational resource development and research. More…
#MySafeRoadHome blog co-authors: Robyn Robertson, TIRF President & CEO, Heather Woods-Fry, TIRF Research Scientist and Karen Bowman, Director, TIRF Drop It And Drive® (DIAD) program, worked collaboratively on this article with technical contributions from Greg Overwater and Andrew McKinnon of Global Automakers of Canada. Robyn is the author of TIRF's knowledge translation model, is well-versed in implementation strategies and operational practices across several sectors. Heather conducts research in various areas of road safety, such as automated vehicles, drug-impaired driving, driver training and education, older driver safety, and cyclist safety.  Karen is also TIRF's Director of Marketing & Communications; she uses her writing and blogging background to help apply TIRF's research to real-world driving, cycling and walking.
Related topics:

​
Source documents and resources:
Brain on Board – Your brain is your vehicle's most important safety feature, Traffic Injury Research Foundation, brainonboard.ca
These 5 pieces of tech have made off-roading easier for everyone, Driving.ca, June 16, 2020 https://driving.ca/jeep/features/feature-story/these-5-pieces-of-tech-have-made-off-roading-easier-for-everyone
Road Safety Monitor 2014: Knowledge of Vehicle Safety Features in Canada, Traffic Injury Research Foundation https://tirf.ca/TIRFCAD16H
Automated Vehicles: Driver Knowledge, Attitudes, and Practices, Traffic Injury Research Foundation, 2016 https://tirf.ca/TIRFCAD16J
Ahangarnejad, A. H., Radmehr, A., & Ahmadian, M. (2020). A review of vehicle active safety control methods: From antilock brakes to semiautonomy. Journal of Vibration and Control, 1077546320948656.
Ferguson, S. A. (2007). The effectiveness of electronic stability control in reducing real-world crashes: a literature review. Traffic injury prevention, 8(4), 329-338.
National Highway Traffic Safety Administration (NHTSA) (2010). Human Performance Evaluation of Light Vehicle Brake Assist Systems: Final Report. DOT HS 811 251.
Robertson, R. D., Meister, S. R., Vanlaar, W. G., & Hing, M. M. (2017). Automated vehicles and behavioural adaptation in Canada. Transportation Research Part A: Policy and Practice, 104, 50-57. https://doi.org/10.1016/j.tra.2017.08.005
Traffic Injury Research Foundation, Drop It And Drive® (2019). Distracted Driving Technology Framework, https://diad.tirf.ca/ehub/TIRFCAD19A
Extreme rubbernecking: live streaming crash scenes a bid for online popularity, CBC News 2017 https://www.cbc.ca/news/canada/kitchener-waterloo/rubbernecking-pictures-videos-collision-crash-scenes-popularity-denorer-morrison-1.4257340
Wildlife Roadsharing Resource Centre, Traffic Injury Research Foundation https://wildliferoadsharing.tirf.ca