September 26, 2023 – The Traffic Injury Research Foundation (TIRF) is pleased to release a new publication from the 19th Annual Meeting of the Working Group on DWI System Improvements. This fact sheet was developed to help communities collect and analyze data and information to guide decision-making about impaired driving strategies aligned with the Safe System Approach (SSA).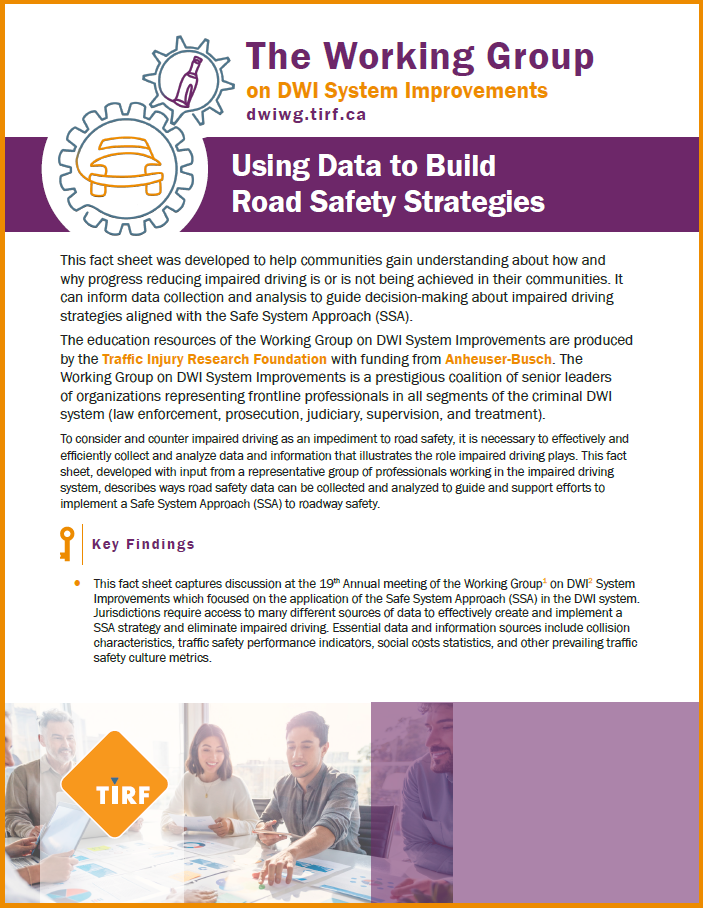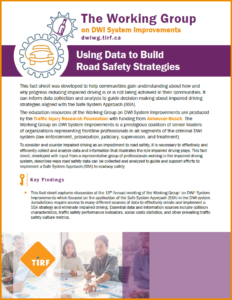 Good data and information are a cornerstone to the successful implementation of an impaired driving strategy based on the SSA. Initiatives developed to effectively address impaired driving using the SSA must be guided by available data and information about impaired driving in each jurisdiction. Equally important, these initiatives should engage with individuals who can capably analyze it and ensure it is only used in a way that protects privacy concerns.
Possessing essential data and information about the people, places, circumstances, and responses related to the prevention, enforcement, and intervention of impaired driving provides the evidence necessary to determine the scale of the problem. It can also inform how to best address the impaired driving issue using a comprehensive plan of multi-agency stakeholders to move closer to reaching the goal of zero road deaths.
The Working Group on DWI System Improvements, funded by Anheuser-Busch, shapes the focus on and development of impaired driving initiatives in the United States with its unique perspective on knowledge transfer of critical research findings, as well as the translation of legislation, policies, and programs into operational practices.
Download: Using Data to Build Road Safety Strategies
About the Traffic Injury Research Foundation
The vision of the Traffic Injury Research Foundation (TIRF) is to ensure people using roads make it home safely every day by eliminating road deaths, serious injuries and their social costs. TIRF's mission is to be the knowledge source for safer road users and a world leader in research, program and policy development, evaluation, and knowledge transfer. TIRF is a registered charity and depends on grants, awards, and donations to provide services for the public.
Visit www.tirf.ca or find all our websites and social media here: linktr.ee/tirfcanada.


About Anheuser-Busch
At Anheuser-Busch, our purpose is to create a future with more cheers. We are always looking to serve up new ways to meet life's moments, dream big to move our industry forward, and make a meaningful impact in the world. We hope to build a future that everyone can celebrate, and everyone can share. For more than 165 years, Anheuser-Busch has carried on a legacy of brewing great-tasting, high-quality beers that have satisfied beer drinkers for generations. Today, we own and operate more than 120 facilities, including breweries, wholesaler distribution centers, agricultural facilities and packaging plants, and have more than 18,000 colleagues across the United States.
We are home to several of America's most loved beer and beyond beer brands, including Michelob ULTRA, Cutwater Spirits, Stella Artois, Budweiser and Bud Light as well as a number of regional brands that provide beer drinkers with a choice of the best-tasting craft beers in the industry. From responsible drinking programs and emergency drinking water donations to industry-leading sustainability efforts, we are guided by our unwavering commitment to supporting the communities we call home. For more information, visit www.anheuser-busch.com or follow Anheuser-Busch on LinkedIn, Twitter, Facebook and Instagram.
For more information, please contact:
Karen Bowman
Director, Communications & Programs
Traffic Injury Research Foundation
613-238-5235 (office)
1-877-238-5235 (toll-free)
250-797-0833 (direct)
613-238-5292 (fax)
tirf@tirf.ca / karenb@tirf.ca