Ottawa, ON June 17, 2021 –The Traffic Injury Research Foundation (TIRF) today released Impaired & Distracted Driving: Data Comparison, with financial support provided by The Co-operators. Almost as many persons died in distraction-related crashes as alcohol-related crashes in Canada in 2017, both in terms of the number and percentage killed. This report contains data related to fatal and serious injury collisions, convictions, and self-reported behaviour which have historically been used to measure progress reducing drinking and driving. Analysing data regarding the magnitude and characteristics of this issue compared to distracted driving provides important context to understand the risk posed which can help inform legislation and education efforts.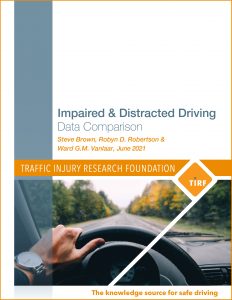 It is estimated 20% to 30% of fatal collisions in North America can be attributed to distracted driving, making it comparable to drinking and driving. Self-reported data from 2020 showed 13.6% of Canadians often drove while talking on a handheld mobile device, 31.5% often talked hands-free, and 11.2% often texted while driving. This compared to 11.9% of drivers admitting to driving after drinking any amount of alcohol the same year, and 7.5% who drove while over the legal limit.
Impaired and distracted driving data used in this analysis report for comparison purposes include fatality data from TIRF's National Fatality Database and self-reported survey data about concerns, attitudes and practices from TIRF's Road Safety Monitor. Conviction data is from Statistics Canada's Juristat publications which chronicle the number and the rate of impaired driving charges.
Progress reducing impaired driving has been achieved during the last few decades, but although distracted driving is not a new phenomenon, data collection is years behind impaired driving data. In many ways, it is also much more complex to accurately capture the role of distraction in collisions because of limitations of the available coding on collision report forms. In recent years, crash report forms have improved, but more detailed data is still needed. The similarities in the risks posed by both impaired and distracted driving illustrate the importance of continued work to reduce impaired driving. In addition, greater efforts are needed to raise awareness about the hazards of distracted driving in order to keep our roadways and communities safe for all road users.
Download: Impaired & Distracted Driving: Data Comparison
About TIRF
Traffic Injury Research Foundation (TIRF) is an independent, charitable road safety research institute. The vision of TIRF is to ensure people using roads make it home safely every day by eliminating road deaths, serious injuries and their social costs. TIRF's mission is to be the knowledge source for safer road users and a world leader in research, program and policy development, evaluation, and knowledge transfer. TIRF is a registered charity and depends on grants, awards, and donations to provide services for the public. Visit www.tirf.ca.
LinkedIn: Traffic Injury Research Foundation & Drop It And Drive® Program, TIRF
Facebook: TIRFCanada & Drop It And Drive®
Twitter: @TIRFCANADA & @DropItAndDrive
Instagram: @DropItAndDrive
– 30 –
For more information, please contact:
Karen Bowman
Director, Marketing and Communications
Traffic Injury Research Foundation
613-238-5235 (office)
1-877-238-5235 (toll-free)
250-797-0833 (direct)
613-238-5292 (fax)
tirf@tirf.ca / karenb@tirf.ca