Tune in & share this latest episode from our friends at TPS.
On this episode of #TPSTrafficJAM, Toronto Police Service Cst. Sean Shapiro (a.k.a. @voiceovercop on Instagram and @TrafficServices on TikTok) is joined by Traffic Injury Research Foundation (TIRF) President & CEO, Robyn Robertson and Lead, TIRF Youth Advisor Program, Kylee Bowman, as well as Mike Millian, President of the Private Motor Truck Council of Canada.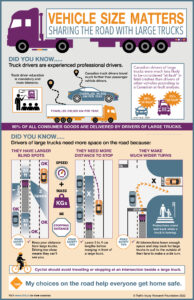 While visiting TIRF offices in Ottawa during National Teen Driver Safety Week in October, we had the opportunity to discuss traffic safety in relation to large vehicles. Mike Millian of the Private Motor Truck Council of Canada along with Robyn Robertson and Kylee Bowman all weigh in on this heavy topic.
TIRF also released a new infographic to help with this discussion: Vehicle Size Matters – Sharing the Road with Large Trucks Infographic (click to download full size PDF). This and other trucking industry resources and tools, including our Road Safety Bulletin: A Question of Size fact sheet, are available on our Trucking & commercial vehicle drivers page.
TIRF data:
Mechanical fitness of vehicles has improved significantly over the past 30 years. In fact, according to the MTO Ontario Road Safety Annual Report in 2019, only 1.4% of fatal collisions involving a heavy truck were attributed to mechanical defects. Driver error is the chief cause and in most fatal collisions at least, the truck driver is not at fault.  
Episode Q&A excerpt:
PC Shapiro – What do you think the best way to get to people is if we're not getting them in the classroom or signing up for a course?
Robyn – Part of it is just starting the conversation. There are some drivers on the road who are well-adept at driving around large trucks including the tips and tools that you use to do that safely. More of us need to speak up about those things, particularly when we're the driver or passengers travelling near large trucks to share information.
Mike – Although some of this information may be covered in some driver education, it's really not covered enough. You could have a whole chapter on this topic.
Kylee – I went through a driver training program and when you talked about the tire blowouts, I had no idea about that. There are a lot of little things than can cause a big issue on the road that is sometimes glossed over. In schools, tying this into physics, science and math classes to weave it into your everyday education could make a big difference later on.
For the #podcast audio-only version of this episode please visit TPS on Anchor.
Resources & links: