Women's safety concerns discourage them from taking public transportation instead of driving after drinking.
Let's face it ladies, personal safety is a prevailing concern and a way of life in almost everything we do. At a young age we learn to be aware of our surroundings, to let someone know where we are going and when we will be back, and to not share too much information about ourselves with people we just met. As a result, most women think about safety differently than men; we just do.
This is also true when it comes to strategies to avoid drunk driving. But while we are quite comfortable, and even vocal when it comes to talking about and sharing personal safety strategies, we are more reluctant to talk about safe options for a ride home after a night out drinking (Robertson & Ireland 2016).
The truth is that many traditional alternatives to avoid driving after drinking simply don't meet the safety test for women because our perceptions about these options are different. There is no point tiptoeing around that fact. Research shows that women are reluctant to take public transportation, take a cab, or take a ride from someone they don't know well, especially after they have been drinking. Women recognize that they are more vulnerable and less vigilant as compared to when they are sober which can affect their perception of risk. In fact, women are more likely to opt to drive after drinking instead of choosing other transportation options to ensure they have a safe ride home. This has contributed to increases in impaired driving among women. In 2015, women in Canada accounted for 1 in 5 persons charged with impaired driving as compared to 1 in 13 in 1986 (Perreault 2016).
But, we need to ask ourselves if this is really our safest option? Women are not able to metabolize alcohol as quickly as men which means we are more easily impaired. And even at low levels, the impairing effects of alcohol undermines our ability to drive safely (Sober Smart Driving) because it decreases situational awareness, cognitive processing and reaction times.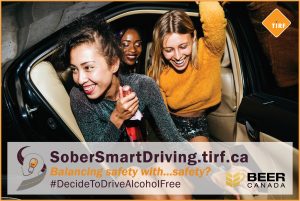 So how do we stay safe and at the same time make sure we get home safe? We need to rely on tried and true safety strategies. Go out and come home in a group and share public transportation, stay over at a close friend's house, ask family or a trusted individual to pick you up, or take turns being a designated driver. Also, always have a plan B, like friends checking that you arrived at your destination.
But there's still more that we can do. We can help our female friends, colleagues, neighbours and new acquaintances by asking whether they have a safe ride or need a safe ride when they are out drinking. Speaking up and telling them "I have a safe ride, let's ride together" can ensure you and your friends make it home safely and prevent women from driving after drinking or getting a ride home with someone they don't know.
So, come on ladies, let's stick together to help keep each other safe. All it takes is speaking up, every time, to ensure we all have a safe ride home and offering a helping hand when needed.
Starting the conversation is easy, check out this week's 30-second PSA & share with your friends: Balancing Safety with…Safety? PSA
Download & share the Drinking & Driving: Prevention Strategies for Women fact sheet.
#MySafeRoadHome blog authors: Robyn Robertson, President & CEO and Karen Bowman, Director, Marketing & Communications, have worked collaboratively, drawing from Robyn's breadth of knowledge on the topic combined with Karen's marketing and blogging background, to create this blog series. Robyn is the author or TIRF's knowledge translation model, is well-versed in implementation strategies and operational practices across several sectors.
References:
Robertson, R.D. & Ireland, L. (2016). Drinking & driving among women in Ontario: A qualitative study. Traffic Injury Research Foundation: Ottawa, Ontario. https://tirf.ca/projects/drinking-driving-among-women-in-ontario-a-qualitative-study/
Perreault, S. (2016). Impaired diving in Canada, 2015. Juristat, 36(1). Statistics Canada Catalogue no. 85-002-X. Retrieved from: https://www150.statcan.gc.ca/n1/pub/85-002-x/2016001/article/14679-eng.htm
Change the Conversation: http://changetheconversation.ca/drinking_and_driving_facts/drinking_and_effects.php