Day-to-day pressures can contribute to increased drinking among women. Talking about it can help.
Every little girl has heard the phrase, "You can have it all." We grow up believing that one day we will have the perfect family, a challenging career, a spotless house, and endless energy for community events and helping others. But, by the time we enter the prime of our lives, it is abundantly clear that having it all can, at times, be akin to living in a state of borderline exhaustion.
You might be a post-secondary student figuring out career options while balancing course work with student debt and job-hunting. Perhaps you're a new mother who finds herself isolated at home alone with a newborn, or maybe a single mom re-entering the workforce after several years caring for children. You may be a working wife and mother struggling to raise children "the right way" while impressing supervisors and winning that coveted promotion. You might even have college-aged children and suddenly find yourself caring for your own aging parents. Regardless of your circumstances, the pressures can quickly add up.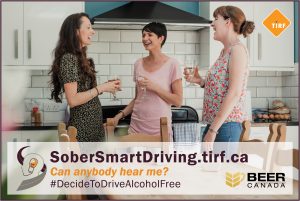 Getting together with friends, family members or colleagues for a few drinks is one of the ways that women may cope with mounting day-to-day pressures. But, when this strategy becomes an increasingly routine event involving a growing number of drinks it can become a problem before we even realize it. A study of more than 150 convicted female impaired drivers in the US revealed that almost all women reported that their impaired driving arrest was precipitated by a major life stressor such as a domestic argument, the end of a relationship, the loss of a job or child custody, or the illness or death of a parent or other family member.
So, what's the solution? It can be challenging to acknowledge that we are struggling with the competing demands of home and family, workplace pressures and deadlines, managing interpersonal relationships, and those never-ending requests to "help out." We repeatedly ask ourselves, "Who are these women who have it all and how the heck do they do it?", and yet, we can be reluctant to voice the thought aloud. Instead we focus on being good listeners and keeping our problems to ourselves lest someone figure out we don't have it all.
In fact, an Ontario study about drinking and driving among women conducted by TIRF with funding from Beer Canada reported that most participants were uncomfortable talking about driving after drinking with their friends and family because there was still substantial stigma and shame for women in relation to the use of alcohol. Participants noted that "it's the norm for the dad to drink but not the mom", and they questioned why there was not more messaging about the experiences of women with alcohol, stating "Mom isn't perfect. It's not talked about."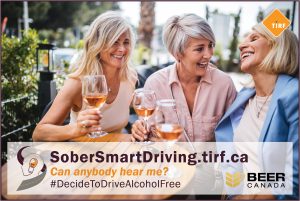 We need to acknowledge that we all face different types of pressure at different times. There is no shame in that because, let's face it, having it all is exhausting. More importantly, we need to recognize that it's difficult to ask for help and we are not alone in feeling this way. The Ontario study showed strong consensus among women that more opportunities were needed to "open that door on the conversation".
Paying attention to those non-verbal cues that suggest things aren't quite right, like a few extra drinks a little too often, can help keep other women safe. Whether you choose to create an opportunity for quiet conversation, or simply offer a safe ride home, be that person who steps up to help and offer a safe, non-judgemental alternative to driving after drinking.
Starting the conversation is easy, check out this week's 30-second PSA & share with your friends: Can anybody hear me? PSA
Download & share the Drinking & Driving: Prevention Strategies for Women fact sheet.
#MySafeRoadHome blog authors: Robyn Robertson, President & CEO and Karen Bowman, Director, Marketing & Communications, have worked collaboratively, drawing from Robyn's breadth of knowledge on the topic combined with Karen's marketing and blogging background, to create this blog series. Robyn is the author or TIRF's knowledge translation model, is well-versed in implementation strategies and operational practices across several sectors.
References:
Robertson, R.D., Ireland, L. (2017). Drinking & Driving Among Women in Ontario: A Qualitative Study. Traffic Injury Research Foundation. Ottawa, Canada. https://tirf.ca/TIRFCAD17H
Robertson, R.D., Holmes, E.A. & Marcoux, K (2013). Female Drunk Drivers: A Qualitative Study, Traffic Injury Research Foundation. Ottawa, Canada. https://tirf.ca/TIRFCAD13I
Rushkoff, D. (October 20th, 2015). No, you can't have it all. CNN News. Retrieved December 28th, 2019 from https://www.cnn.com/2015/10/19/opinions/rushkoff-slaughter-having-it-all/index.html