TIRF partnered with Diageo North America to establish the Impaired Driving Coalition of Canada (IDCC). The IDCC combines the knowledge and expertise of member organizations, along with innovative educational resources to guide the development of a national action plan aimed at preventing impaired driving. It is a priority for the IDCC to increase public awareness and help drivers recognize the risks associated with driving after drinking.
Hosted by PC Sean Shapiro, Toronto Police Service, members of the Impaired Driving Coalition of Canada, sponsored by Diageo Canada, participated in a Q&A vodcast to answer common questions and bust some myths about impaired driving.
To further test your knowledge about alcohol, visit Diageo's DrinkIQ.com.
The first virtual meeting took place on June 30th and was followed by a hybrid in-person and virtual meeting hosted at Diageo Toronto headquarters on July 21st to outline the National Action Plan. The Action Plan focuses on education, data & technologies with key topics within each category identified as priorities.
Partners joining forces with TIRF and Diageo include Desjardins, Safer Roads Alliance, Saskatchewan Government Insurance, Toronto Police Service, Ottawa Police Service, Ontario Provincial Police, North Bay Police Service, Victoria Police Department, Manitoba Public Insurance, Canadian Automobile Association, Windsor Regional Hospital, Ford Canada, Private Motor Truck Council, Spirits Canada, Canada Safety Council, Canadian Telecommunications Association, Beer Canada, arrive alive DRIVE SOBER, MADD Canada, Alcohol Countermeasures Systems, CARSP Young Professionals' Committee, and the Ontario Injury Prevention Practitioners Network as well as TIRF's Lead Youth Advisor.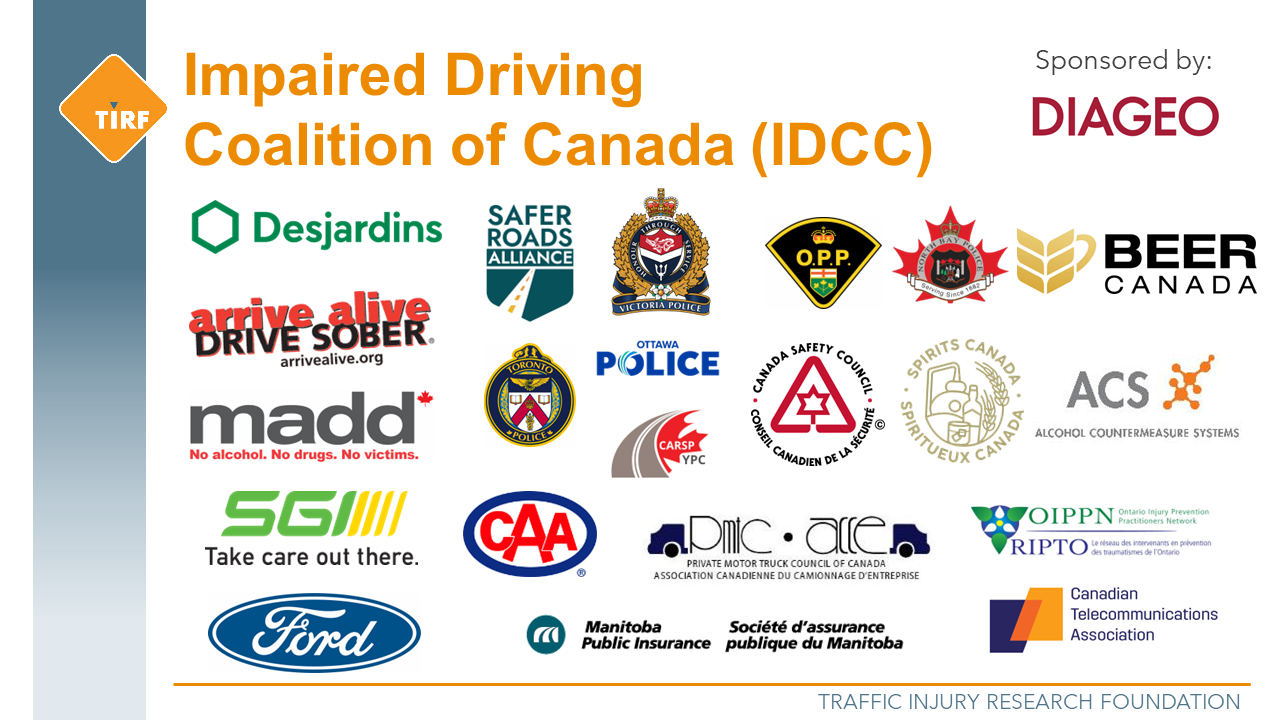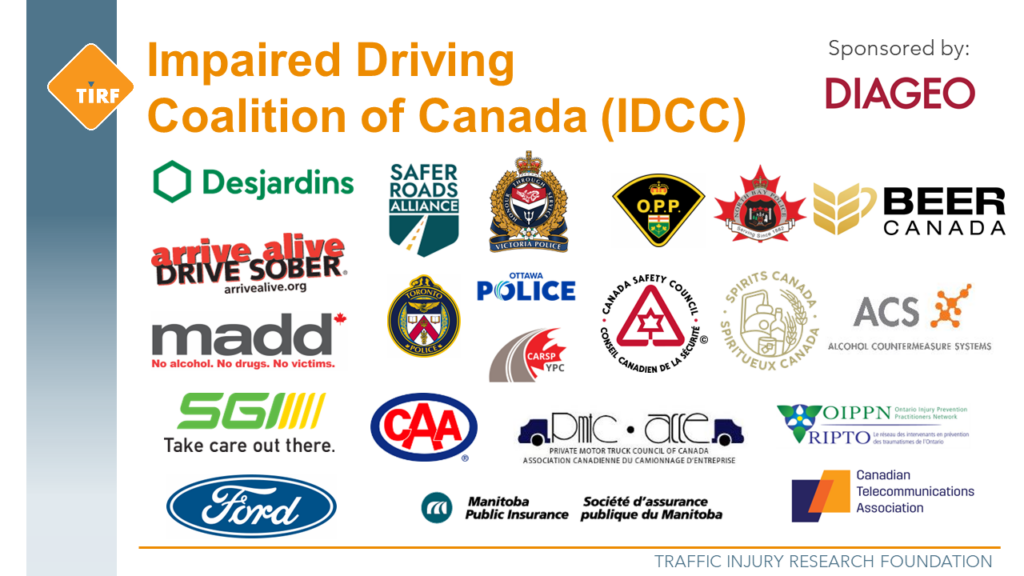 Having easy access to the facts helps people to speak up to prevent drinking and driving. These are some of the more common questions and answers about alcohol and driving.
Pop Quiz:
Q. What are the effects of alcohol on driving skills?
A. As blood alcohol concentration (BAC) increases, the ability to drive safely decreases.
BAC of .02%, about 2 standard drinks consumed within one hour. A decline in visual functions, such as tracking a moving target, and the ability to perform two tasks at the same time.
BAC of .05%, about 3 standard drinks consumed within one hour. Drivers experience reduced coordination, difficulty steering, and a delayed and limited response to emergency driving situations.
BAC of .08%, about 4 standard drinks consumed within one hour. Drivers are unable to concentrate, have an impaired perception, are unable to safely control their speed, and have a reduced information processing capability, such as when to activate a turn signal.
BAC of .10%, about 5 standard drinks consumed within one hour. Drivers have a significantly reduced ability to maintain their lane position and are unable to break properly.
Note: In addition to the number of drinks consumed over a certain time period, body weight, age, sex, and medications are other key influencing factors for BAC.
Q. What proportion of drivers drive after drinking?
A. Among an estimated 26 million drivers in Canada, a 2020 national poll conducted by the Traffic Injury Research Foundation showed almost 12% of surveyed drivers admitted driving after consuming any amount of alcohol in the past 30 days. In addition, almost 8% admitted they had driven when they thought they were over the legal limit during the past 12 months (Vanlaar, Woods-Fry, & Robertson, 2020).
Q. Is it unsafe to drive while hungover?
A. After a night of heavy drinking, even after drivers reach a zero blood alcohol concentration, those who are hungover suffer from reduced concentration, reduced alertness, slower reaction times, and increased errors such as swerving into other lanes (Ling, Stephens, & Heffernan, 2010; Verster, van de Loo, & Downey, 2014; Alford et al., 2020).
To further test your knowledge about alcohol, visit Diageo's DrinkIQ.com.

To help Canadians learn about the risks associated with drinking and driving, TIRF's Sober Smart Driving website contains downloadable fact sheets on a variety of topics, including:
drinking and its effects on driving;
magnitude and characteristics of drinking and driving;
basics of the impaired driving system, such as administrative penalties, vehicle impoundment, supervision, and treatment;
impaired driver programs and penalties; and,
myths and misconceptions about drinking & driving.