Note: Topics related to distracted driving are cross-posted to TIRF's Drop It And Drive® blog to increase ease of access.
Distracted driving puts more than the distracted driver at risk
Every year, Canada promotes National Safe Driving Week to raise awareness about driving behaviours that contribute to preventable collisions causing unnecessary harm to Canadian road users. Sadly, there is no shortage of road safety topics needing attention…alcohol-impaired driving, drug-impaired driving, speeding, stunt driving and of course, distracted driving. The latter is our focus for this blog.
It likely comes as no surprise that distracted driving affects all road users. The unfortunate reality is that throughout 2000-2016, there have consistently been more distraction-related fatalities resulting from the other driver being distracted as opposed to fatalities where the fatally injured driver was distracted. Unlike alcohol-impaired drivers, distracted drivers more often kill other road users in crashes than kill themselves. You don't have to be the distracted driver or even be in a vehicle to be at risk from inattention at the wheel. In fact, a virtual show of hands of those who have experienced a close call courtesy of a driver not fully engaged in the task of driving would see most if not every one of your hands reaching for the sky.
When I see distracted drivers on the road I…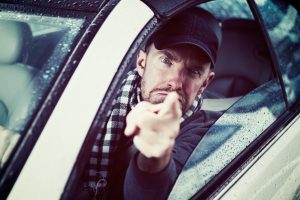 We've all shared the road with drivers who relegate driving to a secondary or even a tertiary task while they handle other priorities such as sending a 'quick' text, finishing up personal grooming, or reaching in the back seat for something that they must have at that exact moment. I was once asked, as a road safety professional, whether there was a visceral reaction to these observed behaviours; the answer, quite simply, was YES. However, it came with an incredibly important, but…; the top priority for any road user should be personal safety. While the temptation to engage in any number of universally recognized non-verbal signals to put down the phone or focus on driving, the end result of those well-intentioned reminders is becoming part of the very problem you're trying to prevent. The irony is that drivers who devote energy to trying to change the behaviours of other drivers while they are driving actually sacrifice their own safe driving habits.
The best option when you find yourself sharing road space with an inattentive driver is to note the risk and drive defensively. This may mean changing lanes or reducing speed to create a safe distance from distracted drivers, and perhaps a quick, sharp horn blast to let those risk-takers know you see them and don't approve. This strategy gives you more time to react if something does go wrong. Overall, just remember the goal is to get home safe which may mean choosing self-preservation over right-of-way.
I do this all the time & I've never caused a crash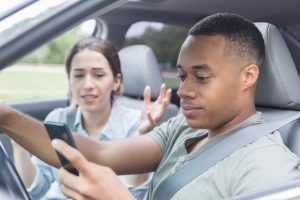 Some of you may relate to conversations with friends that go something like this:
"Hey, would you mind not – insert concerning distracting behaviour – while driving?"
"What are you talking about? I do this all the time and never caused a crash."
"Well, yes, but I'd really prefer it if you just focused on the road."
"You worry too much, just relax; I've been driving like this for years."
Whether it's a conversation with a friend, family member or co-worker, it's invariably easier and more convincing to back up your concerns by sharing facts. The simplest conversation starter begins with, "Did you know?" followed by a quick, evidence-based piece of science supporting your position. For example, our perception reaction time is 1.5 seconds; it takes ¾ of a second to recognize what we see and identify it as a hazard and ¾ of a second for the brain to send the signal to begin to physically react…and this is the best case scenario in the prime of your life. So, for those who insist they can still react to risk even when distracted, the question is how much of a delay is there in perception and reaction due to a distraction before they even begin to brake or steer to avoid a collision? Drivers have the best chance to avoid collisions by driving defensively and being fully engaged in the driving task. Equally important, many advanced driver assistance systems require driver input and this extra second or two also gives their vehicle safety systems, like brake assist or anti-lock braking systems (ABS), the greatest likelihood of preventing a crash.
Working together to create safe workplaces
The above scenario is hard enough when it's a friend or family member who needs a reality check but what about when it's a co-worker? Speaking up about best practices for safety is always encouraged. However, in truth, it is often easier said than done, especially in the workplace. It's important to recognize it's not just about correcting risky behaviours but also about acknowledging safe choices.
For the co-worker seen slipping a seatbelt through the handle of a heavy work bag or metal lunch box before driving away, it may be a habitual behaviour. They may have learned along the way this practice ensures unsecured items don't become dangerous in-vehicle projectiles in the event of a sudden stop or collision. Sharing this information with colleagues who decide to adopt this easy practice, could prevent future injuries.
Workers are the backbone of any business and thankfully, most organizations recognize employee safety must be a priority at all times. Having a safety culture that not only encourages workplace safety but actively promotes it with training, policies, environmental cues and accountability is essential to ensuring their drivers and the communities where they travel and provide services are safe.
A comprehensive workplace safety policy addressing distracted driving and distractions in the workplace is a great start, especially when paired with health and safety best practices that produce a mutual understanding of expectations between employer and employee. Also, not all distraction risk is related to driving cars or trucks, so when it comes to creating a safe workplace for everyone, it's important to acknowledge the variety of jobs that have inherent risks when workers are visually, manually, or even cognitively distracted. This can include forklift drivers, production line workers, traffic control flaggers and construction sites which require workers to be fully aware of their surroundings at all times, both visually and cognitively.
One of the biggest obstacles to addressing distracted driving may be the perception of what constitutes a risky distraction. For some, their choices behind the wheel haven't caused a crash, so the perception of risk is quite low or non-existent. In this scenario, there is a three-letter word that should always follow that statement…yet. Reasons for inattentive driving not resulting in a collision range from fortunate timing to pure luck, but research shows these risky behaviours contribute to collisions, so it's more than likely just a matter of time. The question is, when that time comes, who is going to pay the price and how high is the price paid.
We recently partnered with The Co-operators to create a fun video to helps drivers understand the effects of distraction on the road. All you need to try this yourself, is a few beanbags, some basic questions and a willing volunteer. Check out how it went when we visited a shopping mall in Guelph last year and invited mall visitors to try our Bean Bag Distraction Exercise:
Safety is everybody's business
Helping increase understanding of the impact of distraction can go a long way towards creating a workplace safety culture that encourages everyone at all levels to acknowledge and share observed best practices and tips on how to address safety concerns.
And, best practices aren't just for the workplace, families can discuss steps they take to reduce road risk. Sharing tips about using an app to block incoming calls/texts or simply turning the phone to silent and placing it in the glovebox can go along way to getting everyone on the same page. Another great tip is to create a habit of checking in with family BEFORE driving to find out what needs to be picked up along the way or what time to expect them. This a simple solution to removing the temptation to engage in risky behaviours once driving.
If there's something you do to keep your drive or your workplace safe, we encourage you to share your ideas with others. We are all road users and increasing road safety ultimately benefits us all. National Safe Driving Week is a great opportunity to increase awareness about road safety issues, but let's see if we can keep our roads safe all year round.
Your choices help keep you and others safe.
#MySafeRoadHome blog co-authors: Karen Bowman, TIRF Director, Drop It And Drive® (DIAD) program and Robyn Robertson, TIRF President & CEO, work collaboratively as co-authors. Karen is also TIRF's Director of Marketing & Communications; she uses her writing and blogging background to help apply TIRF's research to real-world driving, cycling and walking. Robyn is the author of TIRF's knowledge translation model, is well-versed in implementation strategies and operational practices across several sectors. 
Related topics:

​
Source documents and resources:
Distracted Driving & Workplace Safety Policies: A Business Case for Employers, Traffic Injury Research Foundation, September 2020 https://tirf.ca/download/distracted-driving-workplace-safety-policies-a-business-case-for-employers
Distracted Driving & Workplace Safety Form, Traffic Injury Research Foundation, November 2020 https://tirf.ca/download/ccdd-distracted-driving-workplace-safety-form
Distracted Driving & Workplace Safety Checklist, Traffic Injury Research Foundation, November 2020 https://tirf.ca/download/ccdd-distracted-driving-workplace-safety-checklist
Distraction-Related Fatal Collisions, 2000-2016, Traffic Injury Research Foundation, September 2019 https://tirf.ca/Distraction-Related_Fatal_Collisions_2000-2016
Insurers now treating distracted driving as 'major' conviction, Canadian Underwriter, November 27, 2020 https://www.canadianunderwriter.ca/legislation-regulation/insurers-now-treating-distracted-driving-as-major-conviction-1004200002
Take a Bite Out of Distraction, Canada Safety Council, November 30, 2020, https://canadasafetycouncil.org/take-a-bite-out-of-distraction