Every year, donations to the Traffic Injury Research Foundation (TIRF) support charitable services that help translate research findings into more effective and efficient practices in the real world. New knowledge is used to improve educational initiatives, inform policy development, and implement evidence-based solutions that help all types of road users stay safe on the roads, particularly in local communities where the effects of road crashes are profound.
Throughout the year, TIRF responds to more than 200 requests to help transportation, health and criminal justice professionals, and other non-profits, understand the evidence regarding priority road safety problems, and more than 300 people visit the TIRF website every day to access TIRF's free educational resources.
In addition, TIRF produces an annual, donor-funded Bulletin on a topical issue to answer important questions and share current knowledge. These Bulletins aim to summarize new research, highlight policy issues, feature the latest evidence-based strategies, and transfer knowledge to frontline practitioners that deliver road safety programs. Road user behaviours are a focus of attention because risky behaviours result in driver error and account for more than 80% of crashes.
TIRF has been the leading resource for evidence-based research and expertise on road safety in Canada since 1964. The continued support of our valued donors, members and project sponsors enables TIRF to better protect Canada's most valued assets, its citizens. Donations to TIRF help provide important services and make our charitable Bulletin series possible to ensure our roads are safer for generations to come.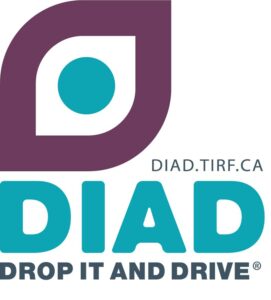 The Drop It And Drive® Program now operates under the auspices of TIRF and delivers free distracted driving prevention high school presentations to Canadian teens who represent drivers, passengers and pedestrians. Your donations help us continue positively impact the behaviour of Canada's next generation of road users.
For more information about how TIRF uses donations, please visit our Personal and Corporate donation pages.
The Safe Winter Driving Starts with Winter Tires infographic, produced in partnership with the Tire and Rubber Association of Canada, answers some of the common questions about why winter driving requires winter tires and most importantly, why winter tires will help you get home safely.
The Toronto Police Service undertakes road safety campaigns throughout the year with a goal to increase safety for all road users. TIRF & DIAD have partnered with Toronto Police Service (TPS) to provide monthly road safety fact sheets to support their 2018 road safety campaigns throughout the Toronto region. Topics differ each month with the 'Sharing the Road' fact sheets providing data (Toronto, Ontario & Canada), science, characteristics of traffic collisions, and strategies for sharing the road. Opportunities are described for all road users to contribute to increasing personal and other road user's safety, including: pedestrians, cyclists, motorcyclists and motorists. A select number of the 2018 fact sheets are also in partnership with The Co-operators.
TIRF published a new young driver study that was designed to increase understanding of the context of government decision-making about driver education and teen driver safety programs. The objective was to gain insight into real-world factors that influence such processes.
Collisions involving large trucks are a concern due to the deaths and serious injuries resulting from these crashes. To place the issue of large trucks and road safety in context, this Bulletin provides a summary of some of the latest research about this topic and describes the involvement of large trucks in road crashes, as well as the characteristics of crashes involving large trucks. It also highlights some of the most topical issues of fatigue and distraction and their implications for large truck safety.
The aging driver population in Canada and the United States is a source of growing concern due to their involvement in road crashes. Of greatest concern, older drivers are at increased risk of cognitive impairment and dementia. This paper critically reviews the literature to assess the extent to which the available scientific evidence demonstrates that computer-based cognitive training programs improve cognitive abilities and safety among older drivers.
The science of knowledge transfer (KT), knowledge mobilization (KMb), and knowledge utilization (KU) are a growing source of interest across disciplines, particularly in light of economic challenges and increasing demands for improvements and efficiencies in social life. Research is the foundation to increase understanding of social problems, to develop, and to identify policies and interventions that create measurable benefits for society. Yet benefits are only achieved when research is translated and used in the real world to effectively manage and reduce social problems. This article highlights the importance of knowledge transfer in the road safety field and provides an overview of leading knowledge transfer models. Gaps in existing models are identified and TIRF's knowledge transfer model is described. The TIRF model has been developed over the last decade and has evolved as a result of its extensive experience working with governments, policymakers and frontline practitioners across issues and systems to inform the development and support the delivery of research projects, and to further the application of key findings in practice.
Like most road safety issues, distracted driving is transdisciplinary in nature and therefore complex both to understand and to solve. To put the issue into proper perspective, this article shares insight into many different facets of distracted driving that draws upon existing research, policy documents, and activities in North America.
Made possible by donations